Workshop: News in WordPress4.8 – the REST API,
by Per Thykjaer Jensen
Did you know that you can create WordPress pages in  JavaScript? Or that WordPress isn't limited to just the browser any more? With the REST API you can fetch the content of your blog native on any device.
But what is REST API and how to use it? Find out – visit my workshop at Digidays at the 15th november 2017 at Business Academy Aarhus.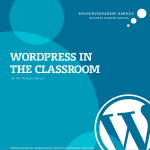 The workshop is of course based on my new book "WordPress in the Classroom" (see page 98). You can download the e-book for free, and even read it online, click here.