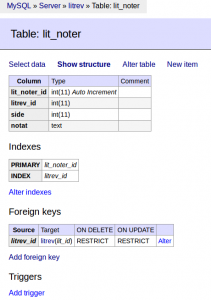 Well, in order to keep track of notes it is necessary to combine the notes with the sources. Now the research database has two tables:
One for collecting sources.
Notes to the sources. The tables are connected by a foreign key.
The database is basicly a research tool. So I save the data on a localhost and use Adminer as GUI. Adminer is really a "functionalistic" KISS production. What you really need is there.
It's a very simple database. Later on I can export the tables and use the data online – that is: if I want to do so.