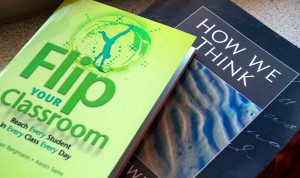 Jonathan Bergmann og Aaron Sams har udviklet modellen the flipped classroom, der præsenteres i bogen af samme navn: "Flip Your Classroom – Reach Every Student in Every Class Every Day" (FYC).
Kort fortalt går modellen ud på at underviseren optager screencasts af sin undervisning. Eleverne skal lære at se videoer uden distraktorer, som Facebook og andre overspringsmuligheder.
"In the flipped classroom, students aquire content on their own time, watching recorded lectures as homework. Then, in stead of listening to lectures, students spend class time completing assignments …" (FYC bagsidetekst).
Bergmann & Sams præsenterer hele forløb. En typisk flip lektion ser sådan ud:
Atomic 10
Objective: Be able to compare the sizes atoms and ions.
Reference: Video 10; Text: 13.3; Worksheet: Atomic Theory 10. (FYC: 58)
Her ser vi ind i Bermann og Sams pædagogiske maskinrum. Undervisningen opbygges af en treenighed, som består af: video, tekst og selvstændig refleksion. Videoen er studentens lektie.
Bergmann & Sams forudsætter et hjemmearbejde inden undervisningen. Denne forudsætning kan diskuteres.
Video på nettet
I et typisk klasseværelse foregår undervisningen ved at en lærer introducerer et emne. Studenten arbejder videre med stoffet og tilegner sig materien ved at afprøve principperne.
Den bærende ide i det flippede klasseværelse er at der optages en video, som lægges på nettet. Studenten kan herefter se videoen hvor hun vil. Og hun kan se den flere gange om nødvendigt.
Bergmann & Sams taler ikke for en video, hvor man ser hele klasseværelset. De foretrækker screencasts, hvor studenten hører underviserens stemme og ser dét som foregår på skærmen eller projektoren.
Det er uklart om disse screencasts foreberedes før undervisningen, eller om undervisningen optages, som den nu engang er.  Måske er der tale om en kombination.
Screencast med Linux
Bergmann & Sams forholder sig ikke til software. Den professionelle underviser anvender naturligvis med open source og Linux.
I de fleste linux-distributioners repositories kan man finde programmer, som:
Desktop recorder – optager et såkaldt screencast, dvs. det som sker på computerens skærm sammen med underviserens stemme.
OpenShot – videoredigering.
Tekst
Så længe skriftsproget har eksisteret har man sikkert anvendt skrevne materialer i undervisningssammenhæng. I antikken læste man bøger ved at læse dem højt. Stoffet blev memoret ved hjælp af mnemoteknik.
Når man læser Platons tekster højt, så hører man i virkeligheden Platons tale. Antikkens brug af teksterne ligner på denne måde det flippede klasseværelse.
Opgavearket
Ideen med opgavearket er, at man kan udprøve forløbets faser efter hver undervisningsgang.
Opgavearket kunne også ligge online, og studenternes svar kunne gemmes i en database; men det er min tilføjelse. Bergmann & Sams' fokus liggger på videoen.
Bergmann og Sams anvender opgavearket som en kontrolinstans. Hvis studenterne kan besvare spørgsmålene korrekt, så har de lært deres stof. Og så er de klar til den nationale test, hvor man gerne vil score højt.
Sådan underviser man måske i skolerne; men på videregående uddannelser virker denne pædagogik en anelse mekanisk. Det betyder ikke, at vi helt skal forkaste opgavearket.
Undervisning på videregående niveau
På videregående niveauer skal opgavearket lede til personlig refleksion over emnet. Bergmann & Sams kan med fordel kombineres med John Deweys klassiker "How We Think" (1909):
"Genuine freedom, in short, is intellectual; it rests in the trained power of thought, in ability to 'turn things over,' to judge whether the amount and kind of evidence requisite for decision is at hand, and if not, to tell where and how to seek such evidence" (Dewey 1909: 66 pp.)
Dewey hævder, at den som lever uden at reflektere, er en slave af de ydre omstændigheder. Formålet med videregående undervisning er at udvikle evnen til at tænke selvstændigt.
Formålet med opgaver bør ikke være kontrol af tilegnelsen af et emne; men derimod at give studenten mulighed for at reflektere over et emne.
Det er tydeligt, at Bergmann & Sams' pædagogik har rødder i en systematisk naturvidenskabelig tradition. Det flippede klasseværelse skriver sig ind i amerikanske pædagogiske traditioner.
Elementer fra det flippede klasseværelse kan anvendes på videregående niveau. At gøre screencasts tilgængelige online er en god ide; men hvorfor ikke tage skridtet fuldt ud?
Internettet som platform for undervisning
Bergmann & Sams fokuserer på treheden videoinstruks, tekst og opgaveark. På world wide web er blogs en oplagt platform for det flippede klasseværelse. I den sammenhæng er WordPress ikke helt tosset. Bloggen åbner for:
Tekst
Video
Opgaver
Hyperlinks
Multimusen.dk
I en eller anden forstand har Multimusen været et flippet klasseværelse siden begyndelsen i 2003. Mit fokus ligger ikke på screencasts; men derimod på tekster, andres video og hyperlinks. Måske skulle jeg overveje screencasts i undervisningen …