Alle vil have en
Microsoft vil ha' en. Apple har en. Ubuntu prøver også at udvikle en AppStore. Men er det nu skidt eller kanel for os som brugere, når softwaren kan hentes via nettet. Umiddelbart er fordelene indlysende:
Det er nemt og effektivt
Hos Apple er det billigt
Microsofts AppStore er på vej – den bliver nok dyr
Ubuntus programmer er gratis
Hvorfor er man så interesseret i AppStores på alle platforme for tiden? Det er naivt at tro, at modellen udelukkende handler om brugervenlighed. Softwareproducenterne ønsker at kontrollere programmerne.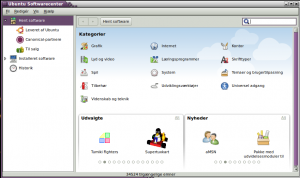 Shareware
Under windows har man altid kunnet hente shareware. Problemet ved shareware er, at selv uskyldigt udseende programmer kan være en virusfælde. Sharewareprogrammerne har i årevis kostet noget i stil med 29.95$.
Hvis man ikke betaler det, så kommer en række irriterende skilte på skærmen, der kræver betaling, hvis skiltet skal fjernes. Nogen gange hjælper det ikke at betale, så kommer skiltet bare med tilbud om flere programmmer…
Hvis man – som jeg – bruger en lang række kreative programmer, så risikerer man, at systemet bliver ustabilt. Og derfor kan det være ganske fornuftigt at lave nogle faste rammer for udvikling af software.
Apples økonomiske fidus
Apples iPad kræver at man installerer programmer fra AppStore. Den økonomiske ide er enkel – hver gang du køber et program, så ryger der nogle $ til udviklere og naturligvis Apple. Hvis du vil læse avisen på en iPad, så har aviserne muligheden for at udvikle applikationer, der kræver et abonnement.
For aviserne ligner det den løsning, de længe har søgt. Men folk vil sikkert heller ikke betale for nyheder på nettet… måske ligger vi som vi har redt, når vi ikke vil betale for nyhederne, så må vi tage til takke med discount.
13. Bud: "Du må ikke skrive programmer"
AppStores løser en lang række problemer; men de skaber altså også nogle nye. Som windows og linuxbruger er jeg vant til at lave nogle scripts og programmer, som løser små daglige problemer. Ikke det vilde, jeg programmerer sådan til husbehov.
Da jeg fik min iPad ville jeg lige prøve at lave et program, bare for at se, hvordan sagerne virker. Her kom overraskelsen: man skal lade sig registrere og betale 99$ pr. år – bare for at skrive programmerne. Hvis programmerne finder vej til AppStore og bliver populære, så er det nok en potentiel guldgrube; men det er jo ikke alle programmer, der skal ud i skyen. Koden bliver mere og mere lukket. Brugeren har end ikke adgang til filsystemet (med mindre man bruger Dropbox som erstatning).
Prinsessen i tårnet
Ulempen ved AppStores er at softwareproducenterne kan lukke sig helt ind i elfenbenstårnet. Som eventyrets prinsesse i tårnet smider softwareproducenterne kun rottehalen ned til passende prinser, der så kan kravle op til damen mod en passende betaling.
Så kommer monopolerne.
Hesteskoen stikker allerede frem. Apple har vist nogle grumme eksempler. Softwareproducenterne i Amerika er umådeligt bornerte efter dansk målestok. En dansk avis måtte ikke udvikle "Apps", fordi en ungmø viser sine ynder på side 9. Ok, vi kunne måske leve uden disse billeder; men det viser, at softwareproducenterne udøver cencur.
Softwarecenteret – AppStore i linux
Ubuntu prøver også at lave Apps. Ubuntu fungerer rigtig godt på Netbooks, og en AppStore giver unægteligt et professionelt indtryk – ind til man finder ud af at Softwarecenteret aldeles ikke rummer alle programmer. Synaptic er et bedre valg for den avancerede bruger.
Men for den almindelige bruger kan Softwarecenteret være en hjælp, ikke mindst fordi programmerne præsenteres visuelt lækkert og med gode beskrivelser. Synaptic minder mere om en lukket fest for Feinschmekkere eller smånørder. Rigtige nørder henter programmer via en terminal (sudo apt-get install vlc).
Cencur
Apple har netop blokeret for VLC – et fantastisk program, der kan afspille videoer og streame video over et netværk. VLC kan afspille mange kryptiske videoformater, og derfor kom brugeren uden om at skulle konvertere videoer til Apples MP4 format. Tilsyneladende handler konflikten om at Apples meget lukkede licens og GPLv3 ikke passer sammen.
Så trak Apple stikket ud.
Problemet er helt præcist, at softwareproducenterne kan trække stikket ud. I de kommende år vil vi se en række monopolitiske AppStores. Giganterne vil nok have én hver.
Og ytringsfriheden? Tjah … vi får se.