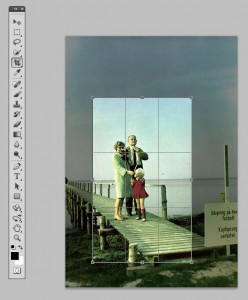 En geometrisk komposition
Et professionelt billede er en geometrisk komposition, hvor intet er overladt til tilfældighederne. Selv om billedet måske er godt, så skal det bruges i en sammenhæng. Billeder skal altid efterbehandles.
Komposition hænger sammen med beskæring. En god beskæring fremhæver det som er væsentligt – og fjerner alt overflødigt. Beskæringen giver billedet den form, som det skal have i et lay-out. Beskæring og billedets funktion hænger altså sammen.
Crop Tool (c)
I gamle dage ville man nok beskære billeder med en saks eller en hobbykniv; men det var dengang. I Photoshop beskærer man ved hjælp af Crop Tool, der enten vælges i værktøjskassen – eller ved at taste c. Værktøjet bruges sådan:
Klik og træk musen ned over det område, som skal bruges.
Området kan justeres på firkanterne.
Når du er tilfreds med beskæringen tast ENTER.
Herefter vil Photoshop ændre størrelsen af billedet.
Billedet af de tre figurer på en bro er et scannet farvefoto fra 1960-erne, hvor farverne er falmede. Det kan være charmerende som effekt; men man kan også forsøge at rette farverne.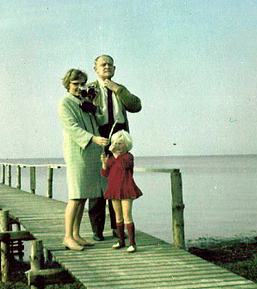 Reglen om 1/3
En gammel kunstnerisk tommelfingerregel siger, at man kan opnå en harmonisk komposition ved at placere vigtige elementer 1/3. De tynde streger i billedet markerer tredjedele af billedfladen.
Crop Tool viser altså, hvor 1/3 af billedet er. Crop Tool kan indstilles på flere måder. Øverst på skærmen kan redskabet indstilles til Rule of Thirds, None eller Grid. Sandsynligvis er reglen om tredjedele en grov forenkling af det gyldne snit, der er en mere kompleks geometrisk konstruktion.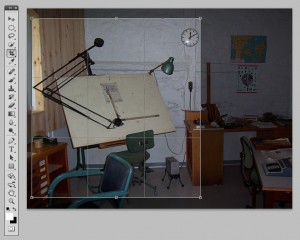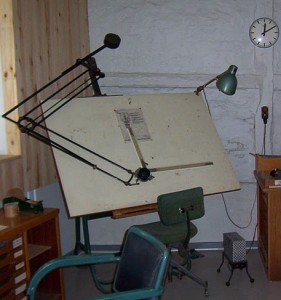 Kompositionen er nu klar. 1/3-linjer går gennem stolens ryg, den øverste linje på tegnebordet, hjørnet mellem træ- og bindingsværksmuren. Uret kunne med fordel flyttes lidt til venstre og farverne kunne trænge til et serviceeftersyn – men brugen af 1/3-reglen kan give en bedre komposition, hvis vi sammenligner billedet med det rå billede fra kameraet.
Ovale billeder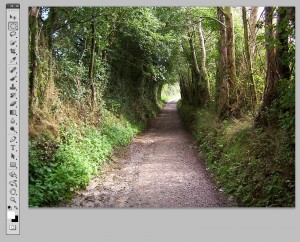 Firkantede billeder er ikke altid interessante. I visse tilfælde kan en oval beskæring være at foretrække. Sådan kan du lave et ovalt billede:
Klik på Elliptical Marquee Tool (eller tast M)
Marker et område ved at klikke og trække med musen som før.
Nu skal det markerede område kopieres, tast CTRL + C.
Klik på File > New.
I fanebladet Background Contents kan du vælge om baggrunden skal være transparent eller om der skal være en dækkende farve. Normalt vælger Photoshop en hvid baggrund.
Nu kan det markerede område indsættes, tast CTRL + V.
Gem filen. Hvis du har en transparent baggrund skal filformatet være .png eller .gif, da .jpg ikke kan håndtere alpha-kanaler.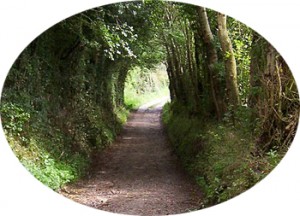 Snydetransparens
Om billedet skal være transparent eller ej er et spørgsmål om den baggrund, som skal vises. I visse tilfælde dannes rædselsfulde hvide eller sorte skygger. I sådanne tilfælde kan man lave "snydetransparens". Derfor har jeg i billedet herover valgt at bruge snydetransparens.
Her skal indstillingerne i Background Contents ændres, så den passer med websidens baggrund. Vælg en baggrundsfarve i værktøjskassen. Klik på File > New. I fanebladet Background Contents vælges "Background Color". Baggrunden får nu den farve, som du valgte i værktøjskassen.
Statisk kontra dynamisk komposition
En statisk komposition betoner de lodrette og vandrette linjer. Statiske billeder kan udstråle ro og harmoni – især hvis de er symmetriske; men en statisk komposition kan blive så rolig, at den er kedelig. Nogle stilarter, som fx nyklassik, foretrækker et roligt og statisk udtryk.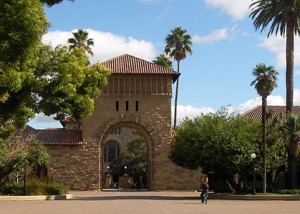 Den dynamiske komposition bruger diagonalerne. Et dynamisk billede virker som om det er i bevægelse. Stærkt ekspressive stilarter, som f.eks. Cobra-malerne, bruger gerne en dynamisk komposition.
Palmen ved universitetet er ikke nødvendigvis det mest dynamiske motiv, man kan forestille sig. Men, hvis kameraet vendes ca. 45 grader kan man få en dynamisk effekt. Prøv i øvrigt det samme med et portræt.