Baym
Baym opererer med 7 nøglebegreber i "Personal Connections in the Digital Age" (2011):
1) interaktivitet
2) temporær struktur – synkron eller asynkron
3) sociale markører
4) lagring
5) reproduktivitet (måske er kopierbarhed bedre?)
6) størrelsen på muligt publikum, der kan understøttes
7) mobilitet – om man kan tage mediet med sig (brugssituationen)
Bakhtin
Bakhtin mener i "The Problem of Speech Genres", at udsagn siger noget om den som taler. Talehandlingen skaber forbindelse til:
en temaenhed
en komposition
relationer mellem taler og tilhører
Men Bakhtin mener ikke, at der findes en generelt accepteret klassifikation af sprogstilarten. Faktisk mener han at klassifikationer fra retorik mv. er mere eller mindre arbitrære: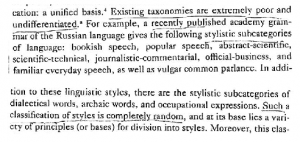 (Bakhtin op.cit. citat p. 64-65)
"In each epoch certain speech genres set the tone for the development of litterary language" (p. 65).
Bakhtin henviser til von Humboldts tese om at tale er en nødvendig betingelse for refleksion, selv når man er alene. Når man taler er det ofte sådan, at taleren selv er respondent. Taleren er med andre ord sin egen lytter.
Banks
Er det det, der sker, når Banks twitter på Twitter.com? Hendes sproghandling er dybt indforstået. Twitter er mikroblogging. Teknikken sætter en grænse for, hvad der kan siges. Forkortelser og hashtags bliver til vigtige stilmarkører. Relationen mellem taler og tilhører opstår i den koncentrerede sproghandling.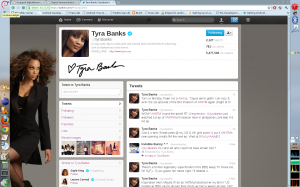 Banks telegrammatiske udsagn: "WOW! #ANTM 'round the world! RT @espietrazo: @tyrabanks just watched 1st ep of #ANTM brit invasion here in philippines.cant wait 4 d nxt ep" er et af mange eksempler på stilen. Hvem taler Banks til? De 5.777.506 som følger hende – eller er hun sin egen tilhører? Med Bakhtin kunne man hævde det sidste.

Analyse
Med udgangspunkt i Baym og Bakhtin kunne man analysere Banks sådan:
Twitter er et interaktivt mikroblogging-site. Rollerne er "twitter" (taler) og "followers" (lyttere). Interaktionen sker når lytterne svarer taleren. Så opstår dialog.
Twitter kan både være synkront og asynkront. Tyra skriver i et nu, og få sekunder senere kan hendes 5.777.506 lyttere læse beskedden og reagere på den. Men beskedden bliver gemt, og kan læses længe efter det nu, hvor Tyra sendte beskedden ud i mediet.
Der er mange sociale markører i det indforståede telegramsprog. "wait 4 d nxt ep" kan oversættes til "wait for the next episone. Tyra vil nok have os til at se et eller andet program i TV. Hun henviser fra et medie (web 2.0) til et andet medie (TV). Hashtaggen #ANTM betyder nok "Americas Next Top Model". Det er et såkaldt "reality show", som Tyra Banks har lanceret i USA – og som i 19 sæsonner har været sendt på en række internationale TV-stationer.
Lagring – Tyras twits bliver lagret.
Reproduktiviteten er høj. Tyras twits kan hentes frem fra lagermediet og genopleves.
Taleren kan nå ud til et endog meget stort publikum. Tyras twits når  nu ud til over 5 millioner brugere. At føre en personlig dialog med så mange mennesker må antages at være umulig. Med Bakhtin kunne vi hævde, at Tyra er sin egen tilhører. Kan man sige, at Twitter er en indre dialog?
Mobiliteten på Twitter er relativt høj – man kan twitte fra en mobiltelefon. Så længe der er mobildækning er det muligt at bruge dette massemedie.
Baym og Bakhtin kan bruges som model til tolkning af sociale medier. Der er relativt få begreber; men analysen af Banks viser, at de kan bruges til noget.
Kritik af denne værktøjskasse
Ovenstående er et led i opgaven med at "udvikle en værktøjskasse eller et begrebsapparat". Med Bayn og Bakhtin får man nok en fornemmelse af, hvad der sker i talehandlingen på Twitter; men begreberne åbner ikke for en kritisk tilgang til den analyserede tekst.