Dannebrog 2.0 er et plugin til WordPress. Dette plugin viser Dannebrog i en WordPress widget på din netside på officielle flagdage. På almindelige dage vises flaget ikke; men du redigere koden, så Dannebrog vises på private fødselsdage og lignende.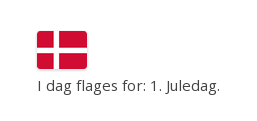 Danske flagdage
Kirkelige flagdage
Militære flagdage for Søværnet, Hæren og Flyvevåbnet
Personlige mærkedage
Se også: Sådan Bruges Dannebrog – en pjece udgivet af Danmarks-Samfundet. Tak til Erik Dam for oplysninger om militære flagdage i Danmark.
Download
Upload plugin til WordPress via "Plugins" / "Tilføj nyt".
Gå til widget (Udseende > Widget)
Placer Dannebrog, dér hvor du finder det passende
NB: Denne widget viser kun et flag på flagdage. Hvis du vil afprøve om den virker, så tilføj dagen i dag som en personlig mærkedag. Derefter burde du se et flag.
Personlige mærkedage
Du kan tilføje dine egne personlige mærkedage. Åbn filen flag.php og indsæt en ny dato sådan:
/* PRIVATE FLAGDAGE
Indfør dine private flagdage herunder
Format: "dd,mm, begivenhed"
eksempel: $ny->dag(03,06,"test");
*/

$ny->dag(27,02,"Pers fødselsdag.");
Tak til
Erik Dam for hjælp med flådens, hærens, flyvevåbnets og statens flagdage.
Copyright ( GPLv2 and later )
Dannebrog is free software: you can redistribute it and/or modify
it under the terms of the GNU General Public License as published by
the Free Software Foundation, either version 2 of the License, or
any later version.
Dannebrog is distributed in the hope that it will be useful,
but WITHOUT ANY WARRANTY; without even the implied warranty of
MERCHANTABILITY or FITNESS FOR A PARTICULAR PURPOSE. See the
GNU General Public License for more details.
You should have received a copy of the GNU General Public License
along with Dannebrog. If not, see https://www.gnu.org/licenses/gpl-2.0.html.